"Have you ever wanted to be upgraded to a better room when staying at a hotel? Well, now you can with these insider secrets. By checking in early, being flexible with room requests, and joining the hotel loyalty program, there are many ways to attain that dream. With these tips and tricks, you can enjoy the best the hotel has to offer during your stay. So why wait? Read on to discover the insider secrets for achieving a hotel upgrade!"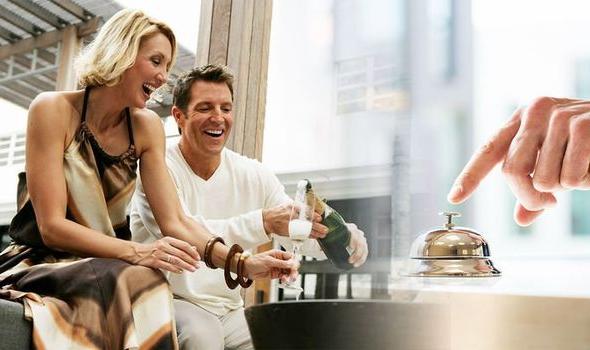 Check In Early To Ask For An Upgrade
Travel can be an amazing experience but it can also be stressful, particularly trying to secure an upgrade at your hotel. Most people aren't aware of the insider secrets for getting an upgrade at a hotel, but with these helpful tips, you can increase your chances of success.
Firstly, it's important to tip the receptionist when checking in to ensure better service and, if any rooms are available, even get an upgrade. Another strategy that often works is to ask if there are any room upgrades available at check-in. Additionally, offer to do a review on TripAdvisor in exchange for an upgrade or other benefits from the hotel.
Being polite and friendly when speaking with reception staff members will also aid your chances of getting upgraded. Arriving early in the day, between 3-5PM, may provide more opportunities to talk to them and potentially increase your chances of success. Checking online reviews beforehand will give you an idea of what types of upgrades the hotel offers; some provide free breakfast or spa access as part of their room upgrades.
Researching what type of upgrade you want beforehand is also helpful, making sure any special requests or packages are taken care of by the time you arrive. At the time of booking, put in a special request for an upgrade, or alternatively, ask upon check-in. Mentioning any special occasions such as birthdays or anniversaries can help too; many hotels offer complimentary drinks or desserts to celebrate.
Attending presentations and joining loyalty programs can also be beneficial. Some hotels offer exclusive discounts and packages for loyalty members only, which may result in free room upgrades depending on availability.
Finally, don't forget about leveraging your online presence. Posting about your trip ahead of time may help staff members recognize you and potentially reward you. Traveling during off-seasons can also increase your chances of getting higher quality rooms due to decreased demand from other guests. Give these tips a try next time you travel, and you never know which one might work!
Be Flexible About Your Room Requests
Are you searching for insider secrets on how to get upgraded at a hotel? You need not search further! With the right knowledge and strategies, you can get the room of your dreams at an incredible price. Check out some of the tips and tricks on how to be flexible about your room requests and get upgrades at the hotel.
To start, choose the most appropriate hotel for your stay. Carry out online research or ask for recommendations from friends if you are unfamiliar with a particular place. Also, booking early is crucial as it helps elevate your chances of getting a better room upgrade and avoid any disappointments later on.
It is essential to make friends with the staff; they know all the best ways to ensure that your stay is as pleasurable as possible! When checking-in, ask politely if there are any promotions or upgrades available; being friendly and courteous will go a long way in ensuring that you receive special treatment during your stay. Additionally, inquire about any membership benefits that may give you access to exclusive offers or discounts when booking ahead of schedule or at specific times throughout the year.
Another great strategy is to mention any special occasion such as anniversaries or birthdays when checking in; hotels often offer complimentary upgrades during this time, as well as other promotions such as free breakfast or spa treatments. Taking advantage of loyalty programs can also help secure an upgrade, so ensure that you check for any applicable rewards points associated with your reservation before arriving at the property.
Finally, leaving positive reviews on online platforms such as TripAdvisor, Yelp!, and Google Reviews will also go a long way towards securing future upgrades from hotels! Additionally, leaving a tip for housekeeping staff members upon checkout shows them appreciation for their hard work – who knows what kind of good karma it can bring back? So keep these tips in mind next time you book a hotel stay – remember to be flexible about room requests and take advantage of all available promotions & membership benefits – before long you'll find yourself surrounded by luxury without breaking the bank!
Stay Loyal To The Hotel Chain
Looking to upgrade your hotel experience? It's possible, but you need to know the insider tricks. Staying loyal to one hotel chain can greatly increase your chances of being upgraded. Here's what you need to keep in mind.
Start by understanding loyalty programs and hotel brands. Choose one chain to stick with, and take advantage of special offers like free nights and rewards cards to rack up points.
To get bumped up to elite status, join a loyalty program with that chain. It may take time, but reaching elite status can earn you complimentary room upgrades. Co-branded hotel credit cards are also useful for gaining status and upgrades faster.
When booking, always ask about upgrades or complimentary rooms. Don't be afraid to mention special occasions like anniversaries or business trips – they might lead to upgrades!
Room upgrades can make your trip extraordinary, so don't miss any opportunities. Stay loyal to one brand, learn about loyalty programs and credit cards, and you'll soon be enjoying upgrades at luxurious properties.
Book Directly Through The Hotel Website
Are you looking to receive an upgrade at a hotel? If so, there are several insider secrets that can help you increase your chances. One of the most crucial things to do is to book directly through the hotel website. This will give you extra control over the booking process and, as a result, provide you with better chances for an upgrade. Here are some additional tips for obtaining an upgraded room:
Being an early bird has its advantages when it comes to booking accommodations. Booking in advance provides hotels with time to plan ahead and could give them the chance to upgrade you if they have vacancies available. When searching online for hotels, keep an eye out for upgrade opportunities, as many hotels offer special rates that include upgrades or discounts on select rooms.
Another effective strategy is to be proactive and ask for a complimentary upgrade from the hotel staff upon check-in. Often hotels will not advertise their upgrades but may be willing to work with guests who inquire about them directly. Additionally, rewards points (if available) can be used towards securing an upgraded room – create accounts with travel sites and accrue points over time so that when it's vacation time, you may have accumulated enough points!
Finally, booking during certain times is another way of increasing your chances of a great room at a discounted price or even free! For instance, many hotels offer discounted rates during low season or late-night check-ins; while making reservations, keep this in mind, as these could potentially save money while also providing an opportunity for an upgrade. Additionally, keep an eye out for direct emails from the hotel that offer discounts or upgrades at specific prices; these deals aren't often available, but they can be very beneficial if taken advantage of quickly!
In conclusion, whenever possible, book directly through the hotel website in order to maximize your chance of receiving an upgrade at the hotel. Be proactive by asking questions and utilizing rewards points (if available). Book in advance and take advantage of special offers during certain times – all of these tactics combined should help increase your chances of receiving a complimentary room upgrade the next time you book accommodations!
Join The Hotel's Loyalty Program
Are you looking for the best way to upgrade your hotel stay? Joining a hotel's loyalty program can be the key! By earning points and rewards, you may be able to secure a free upgrade during your stay, along with other benefits such as complimentary Wi-Fi or late check-out options.
Signing up for the loyalty program is typically free and easy to do. Once you become part of the program, start accumulating points to receive the best perks offered by the hotel. Though meeting certain annual stay requirements may be necessary before an upgrade can be granted, being a loyal guest at a particular hotel can even secure you discounts on room rates or special offers.
It can take time to accumulate enough points in order to reach certain status levels within the loyalty program to access all its benefits, but once achieved, it will have been worth it! So don't wait – join today and take advantage of all those great rewards!
Get Social And Share The Love!
Are you looking for insider secrets on how to get upgraded at a hotel? Look no further – we have the perfect tips and tricks to help you get the room upgrade of your dreams!
First and foremost, explore the hotel's loyalty programs. Most hotels offer rewards programs that give points for booking with them. These points can then be used to get special upgrades or discounts on future stays. Additionally, asking politely for a complimentary upgrade can sometimes work in your favor.
Getting social is another great way to increase your chances of an upgrade. Mentioning the hotel in your posts or stories can show that you're an enthusiastic customer who appreciates their services, and will likely lead to perks like room upgrades. Becoming a regular guest also helps, as staff members are more likely to recognize customers they see regularly, which could land you an upgrade when available.
Booking early is key when it comes to getting upgraded, as this will ensure the availability of rooms in higher categories than what was originally booked. Reaching out directly to the hotel's management department is also beneficial for any special requests, such as a specific view or location within the property. Be sure to make these requests known and also be polite and friendly during check-in, as this increases your chances of being granted an upgrade if available at the time of arrival.
Using loyalty points is another great way of getting upgraded without having to pay extra money – so make sure you use them wisely! Joining the hotel's Facebook page might give insight into insider tips and information about promotional offers that could help with getting upgraded faster than usual. Research hotels before booking so that their amenities and perks are taken into account when making decisions about where best suits your needs/requests for upgrading rooms upon arrival. For example, some hotels may offer free breakfast or spa treatments with certain bookings, which could greatly benefit travelers looking for unique experiences while staying away from home.
Finally, take advantage of any offers or promotions being offered by participating hotels. These often include complimentary room upgrades depending on dates booked, so keep track of cancellations if possible. Follow up on requests made prior once inside the property, and leveraging relationships with corporate partners might also come in handy during times like these. Large groups often receive priority over single guests when it comes down to decision-making regarding upgrades due to the sheer volume needing to be taken care of simultaneously upon the arrival date specified. Lastly, don't forget to be personable throughout the entire process – smiling always helps!