Are you looking for ways to experience 5-star luxury in hotels without going over budget? You've come to the right place! This blog post will share the top five luxury hotel hacks to help you enjoy the best experience without overspending. These hacks include booking directly, researching hotel offers and promotions, and signing up for loyalty programs. Get ready to save money while experiencing luxury hotels – let's dive in!"
Book Direct And Save
Are you searching for ways to experience luxury hotels without exceeding your budget? Luxury hotel hacks can provide excellent deals and discounts while keeping you trendy. Here are some tips to experience five-star accommodations without overspending.
Start by researching available discounts or offers on luxury hotels. Most hotels offer discounts or bundles for extended stays, so be sure to take advantage of them when making bookings. Boutique hotels often provide more benefits than popular hotel chains, so they are worth considering.
Additionally, it's essential to compare prices between different hotels while examining the costs for extended stays. Reviewing platforms such as TripAdvisor can offer great deals on luxurious stays. Using virtual currency may also lead to extra savings on bookings from certain platforms such as Expedia or Booking.com. Moreover, discount codes may be available directly through the hotel; hence it's important to ask for any such offers during reservation.
Consider travelling during the off-peak season, as prices at top-tier resorts usually drop significantly. If you're craving high-end lodging options at lower rates, check Priceline's "5 Star Only" filter option. You can also check out luxury furnished condos in popular destinations, as they offer better value than traditional hotels while offering all luxury amenities.
Lastly, take advantage of free Wi-Fi and room upgrades when available, as well as special offers from hotels. These usually involve activities such as food and spa services at discounted rates. By following these tips, you can discover how easy it is to plan a luxurious, budget-friendly stay!
Research Hotel Offers & Promotions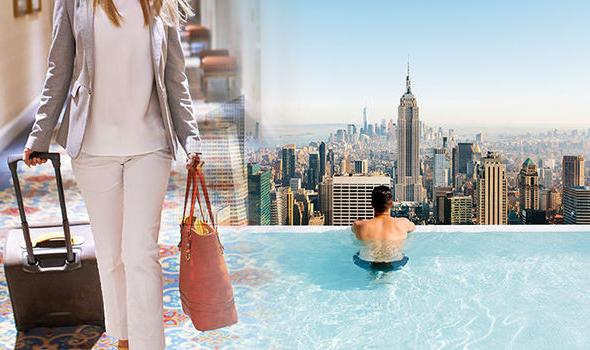 Traveling to a luxury hotel does not have to break the bank. With a little research and savvy, you can get the five-star experience for less. Luxury Hotel Deals™ offers unique ways to save on your next luxurious stay. Here are some of our top hacks for luxury hotel offers and promotions:
First, check for discounted or package offers with the hotel directly. Many hotels offer special deals if you book online or call ahead of time. Monitor group booking discounts as well; many times, multiple rooms are discounted at once if booked together. Also, signing up for travel loyalty programs can help earn rewards that can be used towards future stays in luxury hotels.
Next, research hotel credits and other perks from credit card companies; many cards offer discounts on certain brands of hotels when points are redeemed through their service instead of cash payments. Additionally, explore last-minute offers through mobile apps or websites; they often contain more deals than standard booking sites as they need to fill vacancies quickly!
When researching different hotels in an area, read reviews, and compare prices for similar properties to get the best bang for your buck! The same goes with newsletters and emails from luxury hotels—sign up so that you receive notifications when exclusive discounts become available! With Luxury Hotel Deals™, you can also exploit some of the best offers available on luxurious accommodations around the world – transforming a three-star property into a five-star experience without breaking your budget!
Finally, take advantage of promotions and special offers that may not be available anywhere else – such as exclusive email memberships including access to informative newsletters about new products, or services offered by different luxury hotels around the world. Enjoying all these amenities without breaking your bank is possible with Luxury Hotel Deals™ – where saving money is made easy!
Sign Up For Loyalty Programs
"Looking to experience a five-star hotel at a fraction of the cost? Try signing up for loyalty programs! These programs offer points and discounts for returning customers, as well as special benefits like complimentary room upgrades, free breakfast, and access to exclusive deals and events. To make the most out of your savings, follow these tips:
First, sign up for hotel loyalty programs and add your membership number and password to your travel hacking spreadsheet. Consider getting a co-branded credit card to increase your rewards points. Create a strategy for earning hotel rewards by taking advantage of discounts and special offers.
Next, look for members-only offers like discounted rates or free nights after staying at certain hotels. Subscribe to email newsletters and mailing lists to stay up-to-date on upcoming deals and promotions. Finally, consider the top 5 hotel loyalty programs such as Marriott Bonvoy Rewards Program, Hilton Honors, IHG Rewards Club, World of Hyatt, or Radisson Rewards.
Once you have signed up, explore all the benefits, including complimentary room upgrades, access to exclusive events, discounted members' rates, priority bookings, concierge services, and flexible cancellation policies. With these tips in mind, start making your reservations and earning those extra points! Happy travels!"
Request An Upgrade Or Ask For Extras
"Looking for ways to upgrade your stay at a luxury hotel without breaking the bank? Check out these Luxury Hotel Hacks to get the five-star experience for less! Don't be afraid to ask the hotel staff for an upgrade – put in a special request at the time of booking or during check-in. Mention special occasions or leverage your online presence. Consider signing up for a co-branded credit card or join the hotel chain's loyalty program to earn an upgrade. Explore discounts and packages available through loyalty programs or research what type of upgrades are available in advance. Don't forget about early check-in and late check-out privileges, as well as discounts on local attractions. Follow etiquette expert advice: be friendly and courteous when speaking with staff members and leave a positive review after your stay – both will increase your chances of getting an upgrade next time around."
Save On Unused Luxury Amenities
Saving money on luxury hotel amenities can seem impossible, but with a few smart hacks, you can get a five-star experience for less. Read reviews online to get an idea of what to expect during your stay, and compare prices on different sites for the best deals. Look for discounts through club memberships and loyalty programs, and book your stay in advance for lower prices and potential upgrades. Finally, bring your own snacks and drinks to avoid extra costs and unnecessary waste. Follow these tips to get the most out of your stay without spending too much.
Take Advantage Of Local Discounts & Deals
Are you seeking a way to enjoy luxury accommodations without spending a fortune? If so, you're in luck! There are several ways to access discounts and deals on luxury hotels that can provide a 5-star experience for less. Here are some tips to help you maximize your savings when booking a luxury hotel:
The first step is to search for special promotions that offer the best possible deal. Look online or ask your local travel agent if they know of any deals available for luxury hotels in your desired destination. You can also benefit from flash deals that offer generous discounts up to 70%, providing you with an outstanding experience while saving money. Booking websites like Hotels.com provide loyalty programs where every 11th night is free, offering excellent value for your money. By joining hotel rewards programs or using airline miles or credit card rewards, you may earn free nights and exclusive discounts at luxurious resorts worldwide.
Another option is to search for hidden luxe hotel deals available through sites like Priceline or take advantage of discounted rates for early check-in or late checkout times at certain hotels. You can also consider staying at a new hotel opening with promotional rates or try haggling with front desk staff. Finally, make use of any credit card points or other loyalty programs you may have – they can be incredibly useful for scoring free nights and other exclusive offers.
Overall, there are many ways travelers can benefit from discounts and deals when booking a luxury staycation. With a bit of research and planning ahead, you can enjoy 5-star accommodation without breaking the bank. So start planning today and enjoy the ultimate vacation!